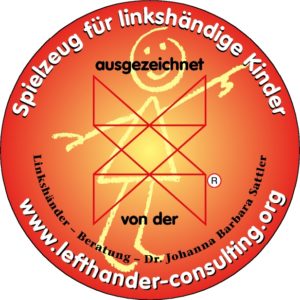 First German Consulting and Information Center for left-handers and Converted Left-handers
Sendlinger Str. 17
D-80331 München
Tel./Fax 089 / 26 86 14
Award of the Toy of the Year 2002 for Left-Handed Children
to the firm
nic Spiel & Art GmbH
for its nic creamobil series
In its nic creamobil series of toys, the company nic has arranged all the working parts such as turning handles and steering grips in such a way that they can be used just as easily with the left hand as with the right hand. Both left-handers and right-handers have the same range of possibilities when playing with these toys.
We have therefore awarded the prize of Left-Handers Toy of the Year 2002 to the firm nic Spiel & Art GmbH for its nic creamobil series.
As a striking example of a toy which has these features we have chosen the fork-lift truck (Art. Nr. 1881) whose dimensions are 17 x 24 x 34 cm.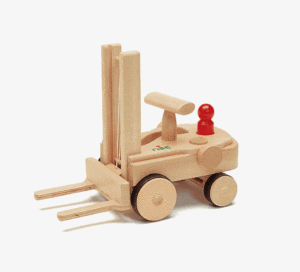 Steering
The steering consists of a centrally positioned handle that is gripped by the whole of the hand. It can be used equally well with the left or right hand and whether a left-handed child sits on the left of the vehicle or a right-handed child sits on the right. The steering is so stable that smaller children can support themselves on it. The steering for the forklift truck is operated through the rear wheels just like a full-size forklift.
The controls for raising and lowering the fork
The controls for raising and lowering the fork are found on both sides of the forklift truck and are simple knobs. A left-handed child can operate these from the left-hand side with the left hand and a right-handed child from the right- hand side with the right hand.
The steering is carried out mainly with the thumb and index finger. The direction of turning for raising or lowering the fork is not fixed. Each child, depending on handedness, can thus choose according to which direction is the most economical in terms of effort: for left-handers this is achieved by turning away from the body and also for right-handers.
With this free choice of the direction of turning, there are the following advantages for left-handed children:
They can turn with the left hand and do not push the boundaries of a German Industrial Standard (DIN), which principally favours right-handers.

Problems with respect to turning directions are avoided. The existing DIN standards can readily be applied later through better understanding.

Play is encouraged without losing out on the functions of the vehicle.
This forklift truck also corresponds closely in other respects to what you would expect from a good and appropriate toy for children, in particular as regards the material, stability and shape.
nic Spiel & Art GmbH, Uhlmannstr. 42, D-88471 Laupheim, Tel. 0 73 92 / 1 00 21,  www.nictoys.de, e-mail: info@nictoys.de
The illustrations have been made available by kind permission of the company nic.