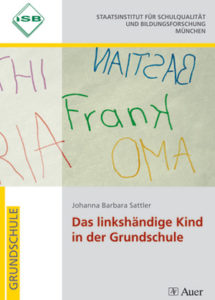 The book was compiled at the request of the Bavarian State Ministry for Education, Culture, Science and Arts. The target groups are teacher, school psychologists, pedagogs, educators and other professional groups working with children in the field of medical prevention. Aids are also offered to parents, the more so as the literature available on the subject is sparse.
The book does not present a theoretical paper on a largely neglected subject but it offers real practical assistance. Oriented to practical life and discussing the situation of left-handed children in school and in everyday life with knowledgeable profoundness, the book is unique.
The main points discussed in the book are
Published by ISB-Staatsinstitut für Schulpädagogik und Bildungsforschung, München 1993, distributed by Auer Verlag, Donauwörth, 16th edition 2010, ISBN 3-403-02532-2, 130 pages
More details in the foreword to the book Dr. Peter Igl.
© Copyright: Consulting and Information Center for Left-handers and Converted Left-handers
(Erste deutsche Beratungs- und Informationsstelle für Linkshänder und umgeschulte Linkshänder)
Sendlinger Str. 17, D – 80331 Munich (München), Germany / Europe, Tel./ Fax: +49 / 89 / 26 86 14
https://lefthander-consulting.org, e-mail: info@lefthander-consulting.org